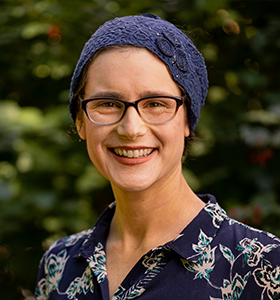 Life under a global pandemic has brought into focus the fundamental role that risk plays in our lives. Every decision, from where we grocery shop to how often we see our families, carries weight - the weight of knowing that our actions carry some degree of risk to ourselves, those around us, and beyond. What sources of wisdom can help orient us while we navigate choices that feel daunting and impossible?
Session 2: We Are Born Of Risk with Dr. Chavi Karkowsky
Every individual can trace their origins back to a period of risk, the pregnancy and birth that brought each of us into the world. We don't always think about these experiences as formative, even as they are how we build our families, and start our own continuity. But these experiences are definitively human, and the most ancient of liminal and insecure times that individuals, families, and communities go through. How can the uncertainty and risk of bringing life into the world - even in these modern and curated times - be a resource to navigate the uncertainty we face in the lives we live out in the world, in general, and especially in these times? Our conversation partner will be Dr. Chavi Karkowsky, an ob-gyn who specializes in high risk pregnancies and is the author of the recently published book High Risk: A Doctor's Notes on Pregnancy, Birth and the Unexpected.