Overview
Reach new heights in song and spirituality at Hadar's Rising Song Intensive (HRSI). Led by Rabbi Deborah Sacks Mintz, with Joey Weisenberg and a team of stellar faculty and musicians, HRSI offers the opportunity to study traditional melodies and sounds, bring new music into being, and climb the ladder of song together.
Enter a community of ba'alei tefilah, cantors, community organizers, lay leaders, musicians, rabbis, and students in an ongoing exploration of communal musical dynamics
Unearth the spiritual underpinnings of song and study the complex intersection between individual and communal voices
Explore with renowned musicians diverse voices within the global Jewish musical heritage
Schedule
Explore the schedule for this year's Intensive below! More details are coming soon.
Check-in and registration
Communal song, learning, and orientation
Shaharit at Yeshivat Hadar
Day 1 of Learning Tracks
Arabic Maqam, Ashkenazi Nusah, and Integrated Voice
Electives with faculty
Topics include songwriting, liturgy, rhythm, klezmer, nigunim, ladino song, and more.
Shaharit at Yeshivat Hadar
Day 2 of Learning Tracks
Arabic Maqam, Ashkenazi Nusah, and Integrated Voice
Electives with faculty
Topics include songwriting, liturgy, rhythm, klezmer, nigunim, ladino song, and more.
Shaharit at Yeshivat Hadar
Electives with faculty
Topics include songwriting, liturgy, rhythm, klezmer, nigunim, ladino song, and more.
Joey Weisenberg and the Hadar Ensemble, Live in Concert
Faculty
Rabbi Deborah Sacks Mintz
Rabbi Deborah Sacks Mintz serves the Hadar Institute as Director of Tefillah and Music. An educator, facilitator, and composer, she has collaborated on over two dozen albums of new Jewish music through Rising Song and beyond, including two albums of her own original music: The Narrow and the Expanse (2020) an Yetzira (2023).

Joey Weisenberg
Joey Weisenberg is the founder and director of Hadar's Rising Song Institute. He is the author of Building Singing Communities, a practical guide to bringing people together in song, as well as The Torah of Music, a treasury of Jewish teachings and insights about the spiritual nature of music, which received the National Jewish Book Award in 2017. Joey has released eight albums of original music, most recently L'eila, available on Rising Song Records.
Aviva Chernick
Aviva Chernick is an award-winning, multi-lingual, Global music artist, a teacher of voice and meditation and a leader of contemplative and song-filled prayer. She leads the touring ensemble Aviva Chernick and La Serena Quartet, featuring the music learned from her mentor Flory Jagoda z"l. Aviva delights in artistic collaborations, bringing her toolkit of song, narration, theatre and dance to each project. Current collaborations include; the Juno-Award Winning Thieves of Dreams with Lenka Lichtenberg and European Global Charts topping Silent Tears with Payadora Tango Ensemble. Aviva is a graduate of the first cohort of EIV (Emotionally Integrated Voice) teachers, trained by EIV pioneer and her long-time teacher, Fides Krucker. She celebrates the voice as expression and vocal practice as part of the work of liberation. She is also a Jewish Mindfulness Meditation teacher, founded and leads neySHEV – Jewish Mindfulness Community, and is one of the Spiritual Leaders at Beth Tzedec Congregation in Toronto.  Aviva has a dog named Luz and dances in her spare time.
Yoni Avi Battat
Yoni Avi Battat (he/him) is a multi-instrumentalist, vocalist, and composer, celebrating his Ashkenazi and Mizrahi ancestry through music. He maintains an active performance schedule across the country and internationally, playing violin, viola, and oud (middle-eastern lute) in collaborative and interdisciplinary projects spanning a wide range of styles. In 2015, Yoni founded his own Yiddish-Jazz band called Two Shekel Swing, which has since released their debut album "Pocket Change," performed in Toronto's Jewish Music Week, and opened for Daniel Kahn and the Painted Bird, amongst other public appearances. Over the past 15 years, Yoni has been immersing himself in maqam, the musical mode system of Arab music. These efforts gave way to his 2022 debut album Fragments, which explores his Iraqi-Jewish identity by pairing maqam music with lyrics in Arabic, Hebrew, English, and Yiddish. From 2021-2022 Yoni toured nationally as an actor and violinist with the Tony Award-winning musical, "The Band's Visit." www.yonibattat.com
Michael Winograd
Michael Winograd is thrilled to be making his HRSI debut this year.  Michael lives in Brooklyn and plays the clarinet.  He travels the world playing freilachs, bulgars, horas, turkishers, polkas, shers and hits from the Yiddish theater with his Klezmer band, the Honorable Mentshn.  His music can be heard in movies, television and radio shows, and at weddings, bnai mitzvot and various jewish celebrations. He shares the stage and records with many of today's premier performers of Jewish music including Itzhak Perlman, Frank London, The Klezmer Conservatory Band, and Deborah Sacks Mintz.  He was featured on Vulfpeck's 2016 album The Beautiful Game.  In 2019 he joined them for a sold out show at NYC's Madison Square Garden, and again at The  Bonnaroo Festival in 2023.  He is available for lessons, concerts and Simchas at competitive market rates.
Batya Levine
Batya Levine (they/them) uses song as a tool for cultivating healing and resilience in their work as a communal song leader, musician, shaliach tzibur (Jewish prayer leader) and cultural organizer. They believe in the liberatory power of song to untie what is bound within us, and sustain us as we build a more just and beautiful world. They offer song, ritual, and workshops in a variety of communities, and compose original music made of Ashkenazi yearning, queer heart-medicine, and emunah (faith/trust). Batya is a co-founder and Director of Programs at Let My People Sing!. Batya is also an alumni of the Rising Song Fellowshipand Residency programs, and served on the Cultural Organizing Team for Linke Fligl. Batya released their first album, Karov, with Rising Song Records in 2020. Batya is also a lover of the ocean, queer dance parties, and puns. www.batyalevine.com
Richie Barshay
Richie Barshay is delighted to be returning to HRSI this year! He began drumming inside kitchen cabinets at an early age, and continues banging on things worldwide to this day. From his work with Herbie Hancock in the 2000s, to tours and recordings with Chick Corea, Esperanza Spalding, The Klezmatics, Fred Hersch, and Kenny Werner, he's been dubbed "a major rhythm voice on the rise" by Downbeat magazine, and The Guardian (UK) praises "a major innovator who also knows how to have fun." He's also performed with Natalie Merchant, Bobby McFerrin, Joe Lovano, Lee Konitz, Donald Harrison, Lionel Loueke, Julian Lage, the Curtis Brothers, Gabriel Kahane, Pete Seeger, and the Tony Award winning musical The Band's Visit on Broadway and national tour. Since 2004 he's traveled across 5 continents as an American Musical Envoy with the U.S. State Department. Richie can be heard on over 90 recordings as a sideman, and two albums as a leader: Sanctuary featuring Chick Corea (2014), and Homework featuring Herbie Hancock (2004). Based in Northampton, Massachusetts and New York City, he is an AmSAT certified Alexander Technique teacher helping performing artists and others regain more body-mind coordination and ease of movement.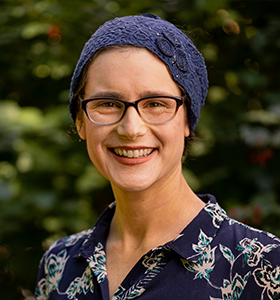 Rabbi Aviva Richman
Rabbi Aviva Richman is Rosh Yeshiva at Hadar. She was ordained by R. Daniel Landes and has a doctorate from New York University in Talmud. R. Richman also studied in the Pardes Kollel and the Drisha Scholars' Circle.
Aly Halpert
Aly Halpert (she/her) is a young adult queer Jewish musician, educator, and activist living on Lenni Lenape land in Philadelphia, PA, USA. A singer, pianist, drummer, and guitar player, Aly writes songs for building community, working for collective liberation, and visioning different worlds. Aly leads music and prayer for Jewish community, including Kol Tzedek Synagogue, Eden Village Camp, Let My People Sing, and Linke Fligl. Her songs have been sung in national gatherings, song circles, and quiet moments of personal prayer, and have moved people all over the world. Aly loves performing and collaborating with musicians such as Batya Levine, Joey Weisenberg, Anat Halevy Hochberg, Molly Bajgot, & Deborah Sacks Mintz. Her first full-band album Loosen was released in April 2022 with Rising Song Records. Whether her songs are serious or seriously goofy, Aly believes deeply in the power of music to awaken us to the loss and hope we carry, expand our sense of possibility, and connect us to each other and our collective strength. 
Rabbi Yosef Goldman
Rabbi Yosef Goldman weaves together ancient devotional music from both his Mizrahi and Ashkenazi heritage alongside contemporary American and Israeli Jewish sacred music, to foster healing, connection, and social change. Yosef has served on faculty for organizations such as the Institute of Jewish Spirituality, Hillel International, The Rabbinical Assembly, and Hadar. As a vocalist, Yosef performs and records with a wide range of Jewish artists. He is a longtime singer with the Hadar Ensemble and a founding member of the Middle Eastern Jewish music ensemble the Epichorus.
FAQs
If you have a passion for Jewish communal music: yes! If you've come before, yes! Come again to learn new music and to review your favorite tunes and melodies.
Before November 1, the early bird registration fee is $550. After November 1, the registration fee for this intensive is $650. If the fee poses an obstacle to participation, please email us at [email protected]. 
All fees are fully refundable until two weeks before the program (December 4, 2023).
Yes, there is a cap on the number of people who may attend this program. Reserve your spot today!
MULTI-DAY LEARNING TRACKS
This year, participants will have the opportunity to spend dedicated time sinking deep into one subject area of their choosing over the course of two mornings:
Maqam - Yoni Battat




Over the course of two sessions, participants will encounter the centuries-old tradition of Arab musical modes, called

maqam

. We will approach this microtonal musical system through the lens of Syrian, Iraqi, and Yerushalmi melodies, tracing their evolution from Arab Classical and Pop music into Jewish life, piyut, and prayer. Through careful listening, brave experimentation, and maybe even trying out a solo or two, participants will have the opportunity to relish the ways in which the specific notes, slides, and ornaments of the Arab musical aesthetic can offer new possibilities for expression.


 

Nusach - Joey Weisenberg




We will study some examples of

nusach

- the fixed but flexible collection of beautiful prayer chants and melodies sung by the prayer leaders in

davening

.   We will explore how nusach is born of lovely musical motifs, which are then pushed and pulled against by the practitioner to create a stretchy artform, which mirrors all traditional artforms in that it becomes juiciest in the dialogue between the fixed and the unfixed - between the "form" and the "fire."  This track can be for beginners and advanced practitioners alike, and serves as an entryway into the more intensive nusach study that's available in Joey's online

Masterclasses in Jewish Song and Prayer

.


 

Emotionally Integrated Voice - Aviva Chernick




We sing out in prayer, in performance, in shared song. How might we cultivate a relationship to our voices that allows for current and true emotional content, finding further freedom in this means of expression? Aviva brings her longtime study and recent certification as a teacher of Emotionally Integrated Voice technique (Fides Krucker) together with an extensive career leading tefilah and sharing music in concert with creativity and play for this exploration of the voice, airflow, architecture, and emotion.

 

No previous vocal training is required. Please come dressed in comfortable clothing to be prepared to move and bring your curiosity.
DAILY ELECTIVE SESSIONS
Expand your horizons and explore a wide range of topics with our stellar faculty in this year's daily elective offerings, including songwriting, rhythm work, tefillah leadership, klezmer, nigunim, ladino song, music history, and more. 
The Beginnings of Song: Finding Our Own Music




Aly Halpert




In this workshop we will ready ourselves to receive, write, and play our own music, with the intention, form, and purpose of the songs we want to bring into the world from the beginning. This workshop is a chance to lightheartedly explore

songwriting

practices and strategies together in community, and also to listen for what comes through!


 

Body Percussion and Rhythmic Flow




Richie Barshay




Where does rhythm live in your body? 

A crash course in body percussion and movement, designed to enhance your groove and rhythmic creativity. For beginners and seasoned musicians alike who are looking to find a little more pocket, rhythmic independence, and more familiarity with drumming in general. The class will tap into eastern and western traditions of movement and music, cultivating open-focus and a more grounded connection to time and the beat. Through elements of the Alexander Technique (Richie is also a certified teacher), you'll learn to use your body as a gateway to more rhythmic flow.


 

Piyyut Rising




R. Yosef Goldman and Yoni Battat




Rising Song Records' newest project,

Piyyut Rising,

explores R. Yosef and Yoni's Iraqi, Syrian, and Yemenite ancestry in conversation with their intersecting musical influences.

Spanning from Temple times to today,

piyyutim

utilize complex and beautiful Hebrew poetry to infuse spirit and meaning into the sacred and ordinary moments of human experience. The stirring melodies are rooted in the illustrious and colorful tradition of

maqam

- a distinct system of musical expression found exclusively in the music of the Arab world, Turkey, Iran, and North Africa. In this session, we'll bring these melodies to life in real-time communal song and exploration.


 

Misinai Melodies: Defining and Redefining our Anchor Songs




R. Deborah Sacks Mintz




Many iconic Jewish communal prayer melodies have come to be known as "

miSinai

"- a revelation directly from Sinai itself, passed down

l'dor v'dor

, from generation to generation. And yet, many of these melodies have quite recent - and often surprising- origins. We'll dig into some of these tunes and their history, alongside the foundational melodies of our own prayer communities, and explore: how does the communal ownership and transmission of a melody affect its status? How does this affect our own relationship to the songs we sing? How do we infuse a sense of

misinai

to the melodies - both new and old - with which we anchor our own communities?


 

Songs that Nona Sang




Aviva Chernick




For a decade, Aviva Chernick went back and forth from Toronto, Ontario to Alexandria, Virginia to study and spend time with mentor and adopted Nona, Flory Jagoda z"l. Flory was recognized as an American National Treasure and the Mother of the Balkan Ladino Tradition, sharing songs she remembered from her Nona as well as writing many of her own.  Join Aviva to celebrate songs from Flory's repertoire and other beloved songs in Ladino shared with her over the years. 

No previous experience with Ladino required.


 

Song as Technology for Blessing




Batya Levine




Drawing on the tradition of

aliyot

- being called up to bless and be blessed by the chanting of the

Torah

- we will interweave

nigunim

with ritual in a co-created group space to call our prayers into the song, and call the song into our prayers.


 

Klezmer Music in America




Michael Winograd




Take a dive into the world of Klezmer music! Alongside migration of Jews from Eastern Europe to the United States in the 19th and 20th centuries, came a migration of Jewish culture and arts as well.  Yiddish music and theater filled the streets, wedding halls and auditoriums of the Lower East Side, and impacted the cultural melting pot of New York City.  Simultaneously the world of radio and recorded sound was thriving, and quickly became the most popular way to consume music.  In this elective we will explore a half-century of Klezmer, starting with the earliest recordings made around 1911, and its development through the seminal recordings made in the late 1950s.  Joined by accordionist Ilya Shneyves, this session will include live performances, listening to old records, as well as discussion, participation, and plenty of time for Q&A. 


 

Joining or Defying the Song of the Heavens




R. Aviva Richman 




Each week on Shabbat, we sing about heavenly lights in the piyyut "El Adon."  These luminous bodies joyously serve and praise God by virtue of their very existence.  What is our relationship to this song of the heavens?  Are we meant to mimic this model of natural praise, and join our voice to this collective song?  Or is the nature of human song different, perhaps more complex than simple obedience and praise?  We'll trace some of the earliest Jewish sources that wrestle with the ideas at the heart of El Adon, and learn a melody by R. Menachem Goldberger.


 

Lost and Found: Wordless Song as a Guide




R. Deborah Sacks Mintz




When the limitations of words tether our prayers, wordless song may offer a pathway into the experience of both communal and personal spiritual practice. Equal parts communal song, group processing, and skill-building, we'll explore both the possibilities and potential - as well as the boundaries and challenges -  of singing beyond text as one grounding strategy and entryway into the richness of

tefila

in moments where we may feel the most adrift.